Case Study 1: Technology and Innovation Center
Aiming for a Net Zero Energy Building with Daikin's latest technology

The Technology and Innovation Center (TIC) is a new core base of Daikin group's research and new technology development.
Advanced environmental technologies, primarily in the field of air conditioning, are used in the buildings and equipment and serve as a model for solutions that achieve both unrivaled energy efficiency and comfortable indoor environments.
The level of environmental quality and function, such as energy saving of the building, interior comfort, attention to the global environment has been highly evaluated and thus led to achieve LEED® Platinum and CASBEE highest S rank.
BACKGROUND
Realize "Net Zero Energy Building"(ZEB). Necessary to be a perfect energy saving building by using various Daikin technologies.
Optimize air conditioning system for the 2 different types of application (Office and laboratory) within the same building
Create comfortable office and laboratory for "Innovation"
Daikin Solution
Realized overwhelming energy saving by optimum placement of energy efficient equipment such as DAIKIN's high sensible heat

VRV

. Achieved 70% reduction of energy consumption compared to a general building in Japan.
Adopted

VRV

for the office area and chiller for the laboratory area. Considered the optimum HVAC system depending on the building usage, and realized energy saving and thermal comfort at the same time.
Provided a high level of energy saving and comfort by the total control of not only air conditioning but also ventilation, lighting and shades.
Daikin Products and Services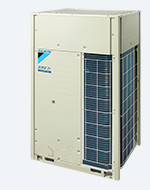 237

VRV

outdoor units (Heat pump and Heat recovery)
9 modules x 2 of Air Cooled High Efficiency Modular Chiller
1 Water Cooled Centrifugal Inverter Chiller
118 DESICA (*)
6 Heat Reclaim Ventilators
(*) Heat Pump Desiccant Humidity Control OA unit
DAIKIN Advantages
1. DAIKIN's efforts for a Net Zero Energy Building (ZEB)
TIC aims for ZEB, and 70% energy saving was achieved in 2015 by using various Daikin technologies.
100% energy saving is to be achieved by 2020.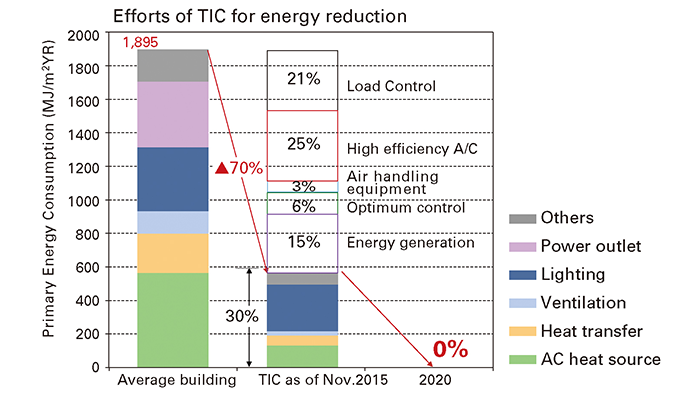 1) High efficiency
VRV
Sensible heat and latent heat are controlled separately with the combination of High efficiency VRV and DESICA. This enhances interior thermal comfort by individually controlling temperature and humidity. Drastic energy saving is realized by reducing wasteful energy use such as excessive cooling or heating.
2) Natural energy
Water cooled VRV which is an under developing prototype is utilized for the entrance hall of TIC. This equipment achieves big energy saving thanks to the use of natural energy;
- Utilization of geothermal heat for cooling / heating water
- Collection / release of heat via solar heat collection / release panel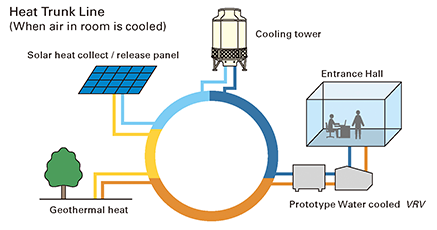 3) Solar power
Solar panel with solar tracking system is adopted to TIC. It can chase sunlight and generate 1.3 times electricity greater than a general fixed type solar panel.
In TIC total 300kW of electricity is generated by fixed type and tracking type.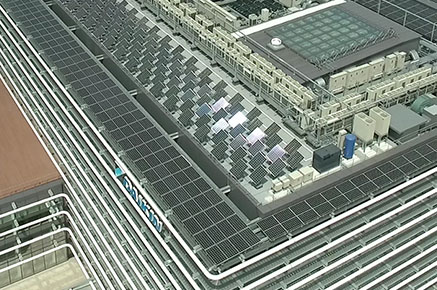 4) Water mist spray
Water mist spray system for outdoor units is installed to make the heat exchange efficiency higher.
By spraying pulverized water droplets, moisturizing of heat exchanger is largely curtailed while the effect of water sprinkling is maintained.* This system is available in Japan only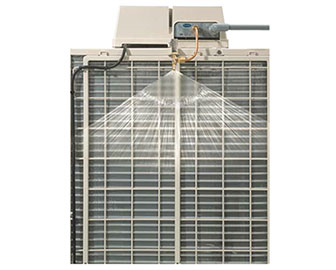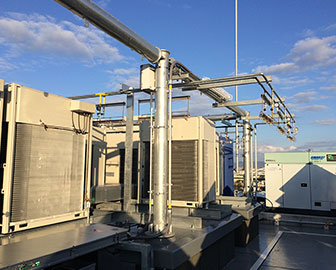 5) Data analysis
Demonstration experiment system adopted for further energy saving activities to achieve ZEB. Comfort and energy saving performance are evaluated by many sensors attached to the building. The analysis data is used for optimum control of not only air conditioning but also lighting, blind, and shades.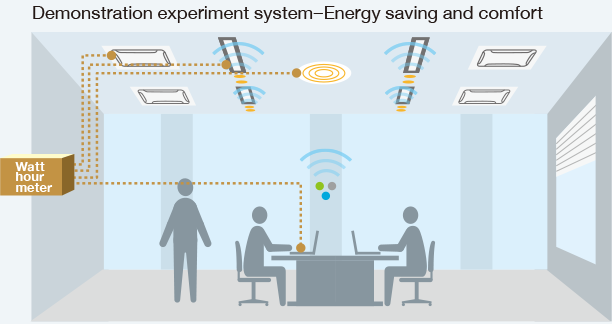 Comfort assessment

Finely placed sensors monitor temp, humidity, CO2, human feeling & illuminance
Energy saving assessment

Individual monitoring of air conditioning, ventilation, lighting and office equipment.
Total control of facility

Following facilities are controlled comprehensively.
- Air-conditioning and ventilation
- Lighting : ON/OFF, Illuminance
- Shades : Height, Angle
2. Optimum air conditioning products for office and laboratory
At TIC, 2 types of applications (Office and laboratory) are integrated in one building. For this reason, optimum A/C products and control for each application are needed.
In the office area, the number of people differs substantially in accordance with the situation. Additionally the heat load varies greatly due to many glass windows. That's why VRV, which can cope with different heat load of the space, are adopted.

There are large space and many rooms in the laboratory area. Module type heat pump chiller and centrifugal chiller are adopted for the laboratory area. They are utilized for the air conditioning system and also providing cool water for experiment use. VRV is also adopted for the laboratory area and supports air conditioning. Chiller and VRV are managed and controlled all together by a central monitoring system.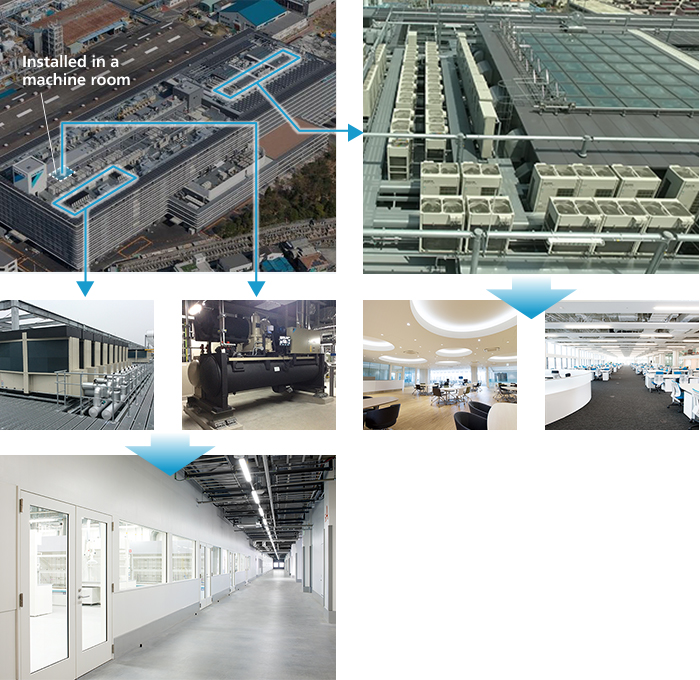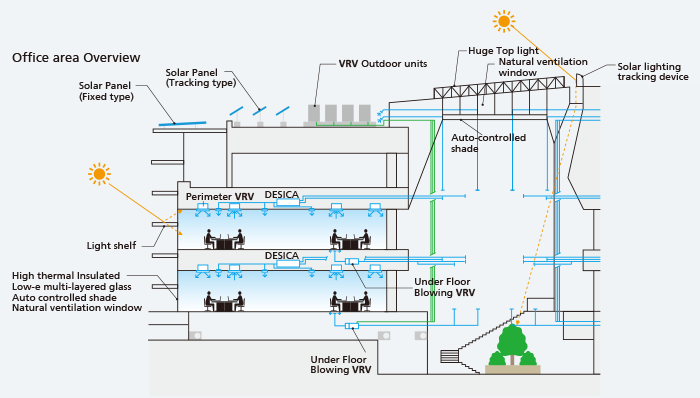 About LEED®

The LEED® (Leadership in Energy and Environmental Design) Green Building Rating System is an internationally recognized green building certification system for the design, construction, and operation of high performance green buildings. U.S. Green Building Council (USGBC)
ABOUT CASBEE

CASBEE (Comprehensive Assessment System for Built Environment Efficiency) is a method for evaluating and rating the environmental performance of buildings and the built environment. Institute for Building Environment and Energy Conservation (IBEC)
Building Information
Technology and Innovation Center
| | |
| --- | --- |
| Application | Laboratory, Office |
| Location | Osaka, Japan |
| Year of Completion | 2015 |